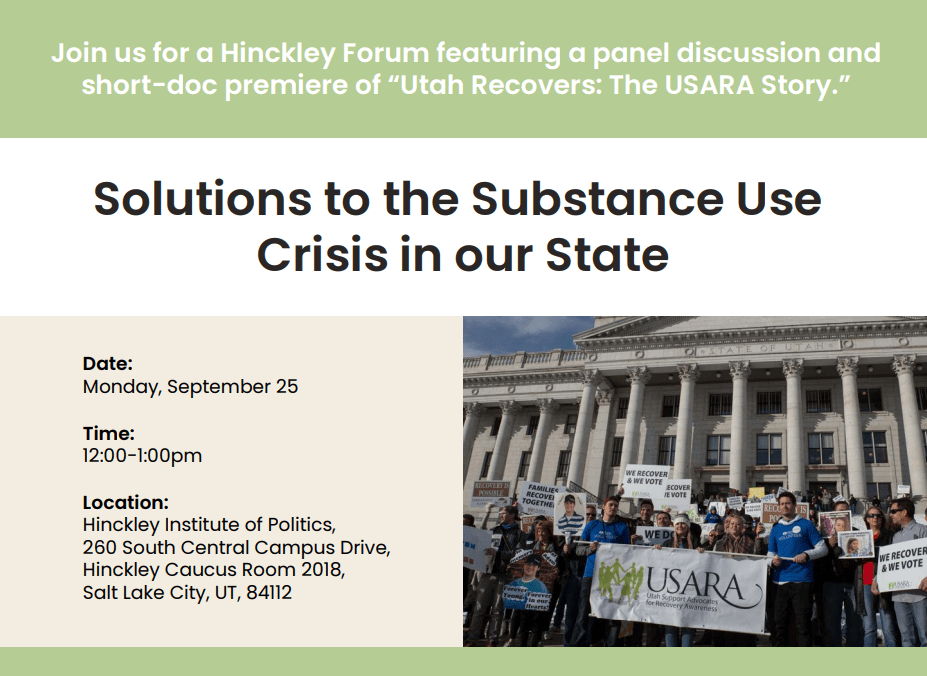 Monday, September 25th, 2023
12:00 - 1:00 PM
Hinckley Institute of Politics,
260 South Central Campus Drive,
Room 2018,
Salt Lake City, UT, 84112
United States
Millions of Americans live with substance use conditions. Advocates across the country are working to confront this issue on several fronts. At this Hinckley forum, you will hear from some of the treatment professionals, policymakers, and other innovators who are addressing substance use disorder in Utah.
Panelists
Troy Bennett, Senior Research Analyst, Social Research Institute, University of Utah
Megan West, Program Administrator, State Department of Health and Human Services, Office of Substance Use and Mental Health
Jareth Williams, ARCHES Team Lead, USARA
Kayla Jensen, Peer Support Team Lead, USARA
Jan Lovett, Family Support Facilitator, USARA
Moderated by:
Evan Done, Associate Director, USARA
COSPONSORED by USARA & Declarative
The Hinckley Institute neither supports nor opposes the views expressed in this forum.