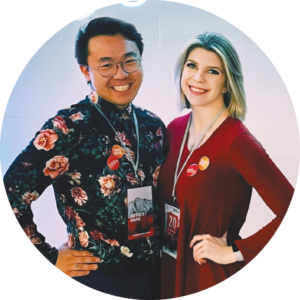 We connect students to transformative internships right here in Utah. Students from all majors can participate during any semester.
Students apply to the Hinckley Institute program first and are then interviewed by the program director (see Application Process below).
Students must register for at least 3 hours of course credit. Graduate, honors and CEL credit available.
After you're accepted into the Hinckley internship program, we send your application to the host offices you are interested in. Internships typically last the length of one semester.
Once placed with a host office, you create a work schedule with your office supervisor. We recommend you intern for four-to-six hour blocks several days per week.
The Hinckley Institute offers many scholarships for unpaid internship and has options for paid internships as well.
Applications for 2024 Spring Semester due 09/30/23. 

How To Become an Intern
Before we place you with an intern host office, you first have to apply to be a Hinckley Local Intern. These are the steps you will need to take during and after you click the Apply Now button to start your application.
After you are accepted to the Local Intern Program, you will be set up with host office interviews and need to complete the following:
Scholarships and Funding
In addition to the availability of host-offices that provide paid internships, the Hinckley Institute also rewards scholarships based on need. Additionally, there are academic scholarships offered by the Hinckley Institute as well as further funding provided by the University of Utah.
Student Testimonials
Students who participate in a local internship through the Hinckley Institute have the unique opportunity to gain real-world careers skills while growing a professional network. The flexibility of local internships allows for students to participate in this enriching experience while continuing with their classes.
Bella Parkinson, Film & Media Arts
Utah Division of State History
"As a film major leaning towards 3D graphics, I never expected to find my foothold in archaeology. However, my mentors at my internship with the Utah Division of State History introduced me to photogrammetry, the art and science of taking measurements using photographs. With their guidance, I made detailed 3D models of historical artifacts for use in an educational virtual reality app. This internship opened my eyes to a whole new realm within digital imaging—one that I can now see becoming my career."
Billy Finlay, Linguistics
Alliance for a Better Utah
"I did a local internship with Alliance for a Better Utah. In this role, I helped track important pieces of legislation, recorded observation notes of general sessions and committee meetings, and put together a final scorecard at the end of the legislative session. I was also able to cultivate my writing skills through drafting action alerts and writing an op-ed that was published in the Sunday edition of the Salt Lake Tribune. This experience taught me so much about how our state government works in its day-to-day operations and how to affect political progress on the local level. I also learned so much about the present policies, important issues, challenges, and proposed solutions within education and healthcare, two fields intimately related to my future desired profession. With the knowledge and skills I gained, I hope to influence policy making decisions that directly impact the populations I will be serving, in order to create meaningful change for them on a social level, and be a strong, effective advocate and voice for my professional field."
Lauren Leydsman, Urban Ecology
Alliance for a Better Utah
"I interned for the Salt Lake City Mayor's Office for a fall semester. As I was studying Urban Ecology in the College of Architecture and Planning, I worried this internship was too unlike my degree. BUT - I was wrong. I was able to meet some amazing people, both in the Mayor's Office and from local organizations. Even after my internship ended, my supervisor set up a day for me to job-shadow in the City's Planning Division! The ability to network with other organizations at the Mayor's Office led me to gain a Planning internship with a private firm and eventually a job after I graduated! It was a wonderful experience and I am grateful I had the opportunity to intern there."
Damon Ngo, Marketing
Salt Lake County Mayor's Office
"My internship with the Salt Lake County Mayor's Office provided me with an invaluable experience and opportunity for me to serve my community while also being able to learn the ins and outs of government work, particularly in the non-profit sector. These relationships are so important for the marginalized in our community, and being able to provide assistance wherever I could in that process was very fulfilling. I was able to help with Salt Lake County's transition to homeless resource centers for the less fortunate, and truly felt that I had a big say in the process, allowing me to be motivated to come to work everyday. Of course, on top of this, the ability to be compensated for my work allowed me to truly give my all to this internship. Thank you to the Hinckley Institute and Salt Lake County for this truly wonderful opportunity!"
Lydia Morley, Philosophy
Utah Rivers Council
"My only regret in participating in a Hinckley internship was that I didn't do it sooner. Through Hinckley, I learned how to use my academic training in the real world, for a cause that I cared about. I spent my summer writing and fighting for water conservation with the Utah Rivers Council. I completed legal and historical research, I learned about the world of conservation and activism, and I participated at every level- from grassroots community outreach projects, to contributing to state legislation-and my training in English and Philosophy enhanced my ability to do so in ways that I would never have expected. I think most of us aren't looking for academic jobs, but it's hard to make the connection between a degree and a career. Hinckley helped me reach out and join the world beyond academia."
Minta Siripong, Biology
Office of Global Health
"I interned for the Office of Global Health at the University of Utah. During my internship, I worked on projects such as a global health footprint survey and a visual model for global health travel but my main role was helping with research on projects we propose to entities like USAID to strengthen health systems in developing countries via local partnerships. My internship connected me to a supportive network and a new realm of healthcare and global issues I would not have encountered in my typical premedical course curriculum."
Waad Raheef, Social Work
Comunidades Unidas
"I did my Hinckley internship at a nonprofit organization called Comunidades Unidas. They are an agency that provides legal and social services to the Latinx community in the state of Utah. My experience at the agency had structured and shaped my future goals in many ways; committing to the profession, pulling communities together, and empowering people by helping them cope with challenges."
Mitchell Johnson, Accounting
Utah Sports Hall of Fame
"I had a great time during my internship! I worked with the Utah Sports Hall of Fame as part of their marketing committee. I had the tremendous opportunity to help with the grand opening of their museum in City Creek. I was able to meet with many great athletes of the past. It was great to meet them, hear their stories, and work with them to open their museum to the public. While I was able to enhance many of my professional skills, I was also able to make some amazing connections and friendships during my internship."
Natalie Van Orden, Anthropology
Gun Violence Prevention Center of Utah
"I interned with the Gun Violence Prevention Center of Utah. I am very proud of my internship experience because from right off the bat, I was asked to do things out of my comfort zone. On my first week interning, I was asked to give a presentation on the spot about some research I had been doing, and I really had no choice but to step up and do my best. I am so grateful to the Hinckley Institute for giving me the opportunity to make a tangible difference with the issues I care most about. While working to prevent gun violence isn't exactly what someone would call a glamorous job, it's taking small steps like trying to create positive gun legislation that makes the biggest impact on the issues I care most about."