What Drives Us
Robert H. Hinckley founded the Hinckley Institute of Politics in 1965 with the vision to, "teach students respect for practical politics and the principle of citizen involvement in government." Since that time, the Hinckley Institute has provided a wide range of impactful programs for students, community leaders, and the general public.
The Hinckley Institute is dedicated to engaging students in transformative experiences and providing political thought leadership.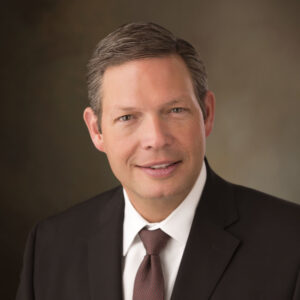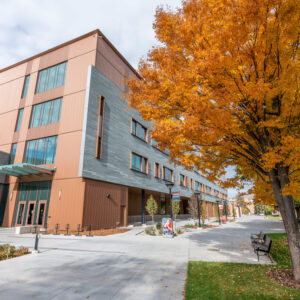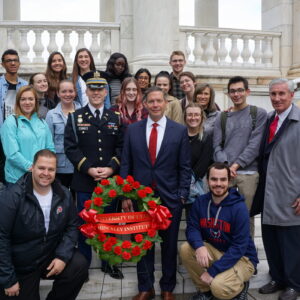 Message from the Director:
Jason P. Perry, JD
The Hinckley Institute of Politics moved into our new space in the Carolyn and Kem Gardner Commons in the summer of 2018. This space has already provided extraordinary opportunities for our students as they undertake internship opportunities and other academic pursuits. Our new James & Lyn Hinckley Family Caucus Room has allowed the Hinckley Institute and the entire University of Utah Campus to host events where students can learn from world-renowned experts and engage in critical discussions about the most pressing topics affecting our nation and communities.
Our premier location in the building, directly inside one of the main entrances and across from the University of Utah Emma Eccles Welcome Center, means that thousands of current and prospective students walk past our office each week. Many of these students walk through Hinckley's doors curious about our internships, classes, and forums. Their initial meetings with our student staff build excitement about Hinckley's opportunities, and has lead to a marked increase in the number of internship applications.
Beyond our location, our beautiful, highly functional space has made it possible for our programs to thrive. Every internship program, special event, and Hinckley project has been enhanced by the new space allowing us to send over 400 interns to offices throughout the world this past year. This summer alone we placed a record-breaking number of interns.
Our team members strive to provide every student we serve with the opportunity to participate in substantive internships and are proud of the variety of majors represented in our classes. In the Forum Series class, students develop critical thinking skills and hone their ability to write persuasively as they review and analyze forums and current events. In the Price Think Tank, students discuss the history and politics of Africa and the Middle East with former Ambassador John Price. In Capital Encounter, students learn about the levers of power and how to effectively advocate for policies and issues they are passionate about in Washington, DC. Regardless of the subject, the level of education our students receive has been greatly elevated by our new home in the Gardner Commons building.
While we reminisce fondly at the many historic events we held in our space in Orson Spencer Hall, our new Hinckley Caucus Room has greatly expanded our role as the premier location on campus to host major speakers and events. The dynamic nature of the space affords us the ability to hold events both large and small; and co-sponsor many events with our valued University of Utah and community partners.
The Hinckley Institute of Politics remains wholly committed to serving students – enhancing their educational experiences and preparing them for their careers. Our space in the new, world-class Gardner Commons has enabled us to further achieve our goal to provide the students we serve with world-class internship opportunities, organizing compelling forums and speakers, and engaging our community.
As we look to the future, we know that the Hinckley Institute's home in the Gardner Commons will allow us to continue to champion the students of the University of Utah for decades to come.
Jason P.  Perry
Director, Hinckley Institute of Politics
Vice President of Government Relations, University of Utah