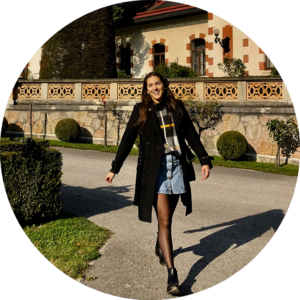 Experience life in another country while gaining real-world experience. Interns are connected to substantial financial assistance opportunities.
Students must register for at least 3 hours of course credit (up to 12). Graduate and honors credit available. Meets both International Experience (IE) and International Requirement (IR) for the University of Utah.
Global internships typically last 10 weeks and are available every semester. The process requires months of planning, so students need to apply far in advance.
Students apply to the Hinckley Institute program first and are then interviewed by the program director (see Application Process below).
Tuition is greatly reduced for global interns. The Hinckley Institute provides one of the most affordable global experiences on campus. A variety of substantive scholarships are available.
Students are often responsible for securing their own housing. If the host office does not provide housing, the Hinckley Institute can help provide resources.
START YOUR APPLICATION TODAY
WHY START APPLYING SO EARLY?
Starting a Global Application early allows you to qualify for multiple scholarships.
You are not locked in if plans change, but applying early gives you access to all available scholarships.
For ALL 2024 (Spring, Summer, Fall) Learning Abroad Scholarships: Deadline: 9/30/2023
Priority Deadline: 9/01/2023
Priority Deadline: 09/01/2023
Priority Deadline: 09/01/2023

How To Become an Intern
Before we place you with an intern host office, you first have to apply to be a Hinckley Global Intern. These are the steps you will need to take during and after you click the Apply Now button to start your application.
---
Unsure about which country is a good fit for your internship host-office? Take our Global Assessment Quiz to help narrow down your options.
After you are accepted to the Global Intern Program, you will be set up with host office interviews and need to complete the following:
Scholarships and Funding
The Hinckley Institute offers many funding opportunities to help global internships be financially viable. Students should understand the costs associated with an international internship and budget accordingly. Students should factor their host country's currency exchange rate to plan for expenses.
Student Testimonials
Students who participate in a global internship through the Hinckley Institute are immersed in an unparalleled university experience where they learn about another culture while gaining valuable real-world career skills.
Deron Parcell, Accounting
Playmoss, Barcelona, Spain
"In my internship, I garnered an assortment of entrepreneurial skills and insights. I was fortunate to immerse myself in the venture-building community. My role exposed me to investors, industry experts, entrepreneurs, and collaborators who share the desire to affect change in the world. My experience throughout my Hinckley Internship left a profound impact on my character, career path, and perception of the world. This opportunity opened my life to a world of different cultures, communities, businesses, and people, which broadened my outlook on problem solving, and inspired me draw influence from different avenues. Following this experience, I was confident in my abilities to manage adversity, seek diversity, and grow interpersonally. I am eternally grateful for my internship and for the various resources and people it brought into my life, I am forever shaped by this program, and am humbled to say I am an alumni of the Hinckley Global Internship program."
Jessica Valdes, Gender Studies
Swami Vivekananda Youth Movement, New Delhi, India
"I didn't know I would be able to find an international internship that was fit for what I wanted to do in the future. Hinckley helped me find an internship in Southern India where I was able to work with SVYM (Swami Vivekananda Youth Movement) investigating microloans within the Mysore area. I was interested in this specific area because I was able to work with villages on financial education and help the community learn how to save money in different ways. It gave me an opportunity to utilize skills I gained during my undergraduate and also give me insight into what I might want to do as I continued into my masters programs.""
Chris Rigby, MIAGE Major
American Embassy, Kampala, Uganda
"My internship was an invaluable experience that provided me with the tools and experiences necessary for success in my field of study. I was able to work closely with Foreign Service officers and the Ugandan people on a daily basis. The Hinckley Institute was incredibly supportive throughout the internship and put me in the position to succeed at the work I was undertaking while in Uganda. As a student of international affairs, this internship was incredibly beneficial. I met, and worked with, diplomats and ambassadors from all over the world and was able to gain first-hand experience of working with different cultures and skillsets. Most importantly, I had a lot of fun! I was able to ride a camel, eat fried crickets, and raft the Nile River! None of this would have been possible without the help and encouragement that the Hinckley Institute of Politics provided me throughout my amazing internship experience."
Gillian St John, Fine Arts
American Chamber of Commerce, Brisbane, Australia
"My Hinckley Global Internship in Australia helped me step out of my comfort and allowed me to explore the work and design culture of a new place. I returned home feeling more prepared for my future career and with skills in the professional field that will help separate my resume from others. This experience isn't something you can get from sitting in a  classroom and has given me the confidence to enter the working world. I think the Hinckley Global Internship program can provide students in the Art Department with a much more varied experience than they would receive in the art classroom and get a taste of creating and designing for a global audience."
James Scholz, Computer Science
Startupbootcamp, Melbourne, Australia
"My time at Startupbootcamp in Melbourne, Australia, was a time of disconcertion and discovery for me. Experiencing a new culture, living thousands of miles away from anyone I knew, and the kangaroos were enough to prompt my self-betterment as I became more self-reliant and resilient. I was able to learn from my advisors to be more sagacious, communicative, and kind. I'm grateful for Startupbootcamp Melbourne, and the Hinckley Institute of Politics for allowing me this wonderful experience."
Christina McWhinnie, Health Promotion and Education
Stepping Stones, Botswana, Africa
"During my internship in Botswana, Africa, I gained valuable experience teaching vulnerable teenagers about healthcare, nutrition and other life skills. I learned about issues related to public health and communication skills that can only be gained from first hand experience. I made lifelong friends in a foreign country, discovered things about myself and my strengths in a new community....and even ate the local snack of Mopane worms! This was one of the greatest experiences of my life and has assisted me in advancing my career as a Health Educator in public health and employee wellness programs."
Kristin Fagerback, International Studies
Wizspace, Seoul, South Korea
"Learning how international business is conducted through a hands-on experience significantly enriched my understanding and furthered my International Studies degree. My Hinckley internship led me to where I am today. I now work in a Korean government run start-up incubation program where I have started my own company at the age of 23 in a foreign country. Never give up. Just take one step at a time; experience is vital. I recommend Hinckley Institute internship to everyone."
Sadaf Baghbani, Public Policy
Institute of Diplomacy, Amman, Jordan
"I still sit in awe when I think back to my internship with the Institute of Diplomacy. It changed not only my perspective of the world, but also my ultimate career."
Lillian Reninger, Education
The Macote Entrepreneur Center, Guinea Bissau, Africa
"A global internship with The Macote Entrepreneur Center was an absolute game changer for me. It gave me a chance to gain a level of global awareness that I couldn't have received anywhere else. As one of the poorest countries in Africa, I got a glimpse of what life is like without the things you take for granted such as clean water, internet and even light. I learned so much from my students and community on a daily basis. not only the language, but also how to treat people. The best advice I could give someone is, let those around you teach you - whether it's the language, how to get around, or just to live in the moment."
Rob Spangenberg, International Studies
Startupbootcamp, Cape Town, South Africa
"My internship was the most valuable and diverse part of my education at the U and is what lead to the discovery of my love for the start- up community and a more clear vision of the career path I wanted to pursue. Prior to my experience working for Startupbootcamp, I was very uncertain about what direction I wanted to go with my career following my education, but everything became clear as I fell in love with the innovative and creative process of the start-up environment. The city of Cape Town was itself beautiful beyond description, but what else left an impression I will never forget was the people and the rich culture and history of this enchanting city. Through my internship experience, I was exposed to and immersed in mind-blowing ideas and sincere openness to uncharted possibilities for potential development in developing countries. What I gained has been invaluable in opening professional opportunities and to my perspective and growth."
Yolancee Nguyen, Biochemistry
Hiedeveld Clinic, Cape Town, South Africa
"During my senior year of college, I was able to embark on a journey that would open so many doors that I didn't think I would ever have a chance to encounter. Because of my internship with Hinckley, I was able to receive funding that would help me cover a large portion of the costs. Their financial assistance was HUGE, and Jean Oh's support and years of knowledge helped me to acclimate to the foreign surroundings I would find myself to be in for 3 months. I graduated in Honors Biochemistry, and I went to Cape Town, South Africa to complete a medical internship in a rural primary care clinic. I came back infatuated with where I had spent 3 months of my life, and to this day, I've been able to give elevator speeches about my experiences that has allowed me to obtain research positions, stand out in my higher education applications, and participate as a mentor to current and future interns that will complete the same internship I did while I was in South Africa. Being part of STEM, I found there wasn't a lot of opportunities for me to travel while completing my studies. I grew so jealous of my business friends because they were able to travel to multiple countries in such a short amount of time. I'm grateful Hinckley helped me land an internship of a lifetime, and I want to thank Hinckley, The University of Utah, the Gilman Scholarship Program, and my family for providing me the tools and resources to pursue my passions and allow me to push myself out of my comfort zone to do something meaningful. My degree of study was difficult, but this trip made the sleepless nights and cram sessions worth every single second."
Sam Hirsch, Computer Engineering
Streamroot, Paris, France
"My internship experience in Paris was incredible and a once in a lifetime opportunity. I gained valuable world experience and was able to learn about the French and European culture, while working in a different country, and with cutting-edge technologies. I was able to find an internship that corresponded exactly with my major and I feel much more prepared to enter a diverse workforce. During my internship with Streamroot, I was able to learn in-depth information about developing video streaming technology, from server hardware and infrastructure through client-side software implementations. I also lead my own engineering projects, which included the development of a mobile application designed to automate the test suite of Streamroot's software in various configurations and on any device, including devices in remote device-farms. This experience was a great view of the real-world knowledge required to work in Computer Engineering and my first-hand experience helped me gain a leg up in my next classes. I also had a great opportunity to travel to other, nearby countries and visit as much of Europe as I could! I am very grateful that I had this experience and I feel prepared to work on technology that may be unfamiliar to me in any sort of environment."