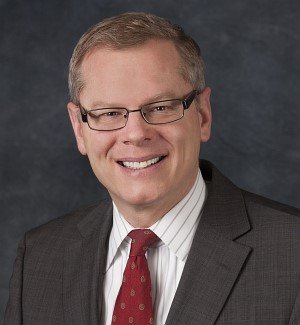 Alumni Spotlight
Steve Owens spent a lot of time at the Hinckley Institute during his undergraduate experience at the U. He often attended the midday forums and remembers the free pizza - always appreciated by students and their wallets. He also recalls loving the election season debates that the Hinckley Institute sponsored and held in the Union Building. The unpredictability and press coverage made those debates particularly exciting! In addition to attending various events and forums, Owens got to know the Hinckley staff including Bae Gardner (former Assistant Director) and former Hinckley Directors R.J. Snow, J.D. Williams, and Ted Wilson.
Owens completed a local internship through the Hinckley in 1988. He had the unique opportunity to work on his own dad's campaign! His father, Wayne Owens, was then a Member of Congress (Dem, UT2). Wayne Owens went on to win his re-election campaign.
One of Owens' most memorable experiences at the U was receiving the prestigious Truman Scholarship in 1989. This national scholarship is a highly competitive recognition awarded to extremely dedicated students who demonstrate a commitment to civic engagement. The Hinckley Institute helped guide Owens through the rigorous process. Ted Wilson, former Director of the Hinckley, encouraged Owens to apply for the scholarship.
 I wrote an essay about the broken campaign finance system, which I had seen first hand while working on my dad's campaign. Jayne Nelson, then a Hinckley employee, typed out my application on an actual typewriter! I got the scholarship, which opened up many experiences and friendships, which I treasure. 
The Hinckley Institute greatly impacted Owens' academic and career path.
At the Hinckley Institute, I always felt that giving public service was required of me. I believe Robert Hinckley's statement that political involvement is honorable and important.
After graduating with a BS in Political Science in 1991, Owens attended law school at the U and graduated with his JD in 1994. He has since clerked at the Utah Attorney General's office, the U.S. Department of Health & Human Services and the Utah Supreme Court. He currently works as a health care lawyer and serves on community boards.
Steve Owens, along with his brother Doug (who serves Millcreek in the Utah House of Representatives) are proud to continue their father's legacy of public service.
—
The Hinckley Institute is fortunate to maintain a friendship with the Owens family and have their support in the annual HIP Talks speech contest. Created in honor of noted orator Congressman Wayne Owens to foster the public speaking skills of University of Utah students. Each year, the family helps to select a handful of winning contestants to receive generous scholarships.