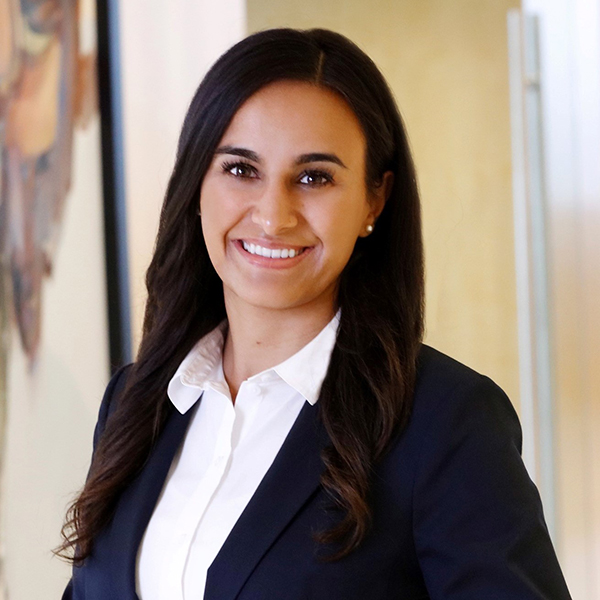 Alumni Spotlight
Neela Pack graduated from the University of Utah in 2013 with degrees in economics and political science, as well as a campaign management minor through the Hinckley Institute. Pack took full advantage of Hinckley programs during her time as an undergraduate, completing several Hinckley courses and an internship in Washington, DC. These experiences complemented her academic coursework and served as the starting point for her future career. Through her experience, she gained direct exposure in the field she went on to pursue, made impactful professional and personal relationships, and enjoyed valuable professional development opportunities.
As a Hinckley intern in Washington, DC, Pack worked for the Federal Judicial Center, a research and education agency of the judicial branch. This internship provided her with important exposure to the legal profession. This was immensely beneficial because she was already planning to attend law school. The internship also helped her later gain future opportunities in the field. She also made meaningful network connections that eventually helped her land positions both during and after law school. Beyond her internship, Pack greatly enjoyed the experience of living in the nation's capital for a semester. During her time in DC, she made lifelong friends with her fellow U of U interns and together they explored every corner of DC and traveled to various places along the East Coast. She fondly recalls one unforgettable summer night when a group of interns played kickball on the National Mall under a bright full moon.
In addition to her internship in DC, Pack also enrolled in the campaign management course offered by the Hinckley Institute. During this unique hands-on course, she learned about all the various functions of political campaigns. This particular aspect of her undergraduate education served as a highlight on her resume and was a regular topic of conversation in interviews for future positions. Additionally, she enrolled in the Hinckley Forum Series course where she was able to hone her professional writing skills and learn about various political topics.
Pack credits her collective Hinckley experiences with helping her learn essential skills and life lessons. She states: "The Hinckley supplemented my undergraduate education in a way that being on campus and in the classroom could not. It provided me with real-world work and living experience. My time in DC was transformative and taught me how to be an adult in a big new city, away from the familiarity and resources I had in Utah."
After graduating from the U, Pack returned to DC to attend law school at George Washington University. While at GWU, she landed a prestigious internship with the U.S. Supreme Court. Regarding this opportunity, Pack says: "My Hinckley Internship at the Federal Judicial Center played a big role in receiving an offer for an internship with the Supreme Court of the United States during my first year of law school. The interviewer had worked closely with a team member at the FJC that I had worked with a few years earlier and my former supervisor at the FJC served as a key reference for the application."
Pack's internship experience proved to be the pivotal starting point for her career and opened doors that allowed her to build on her experience. Pack graduated from law school in 2017 and shortly thereafter returned to Salt Lake City to work as an attorney. Today, she works as a corporate attorney for the Salt Lake City law firm Dorsey & Whitney, LLP.